Restoring Broad Meadow
Broad Meadow, a large floodplain meadow in the heart of Tamworth, is considered a 'rose in the crown' of the Tamworth Borough Council owned estate and is a designated Local Nature Reserve. The site is one of two key locations in Staffordshire for the growth of a rare native flower, the Snake's-Head Fritillary. Large populations of the fritillaries present in Broad Meadow means the site is considered extremely important by local naturalists. So much so, in fact, that volunteers have worked hard over the years to help conserve these beautiful flowers by mowing small areas of the meadow. Through the Fantastic Fritillaries project, these effort will be able to be continued through work supported by TVWLPS to restore the site, ensure it is maintained properly and continues to be valued and appreciated by the local public.
With funding from our National Heritage Lottery Funding (NHLF) Landscape Partnership, our Fantastic Fritillaries project involved using traditional land management methods to restore the wildflower meadow, reinstate grazing management and ensure the fritillary population thrives. Work including annual mowing of vegetation and livestock grazing will help the fritillaries compete against taller vegetation growing in the meadow, making sure they continue to grow well.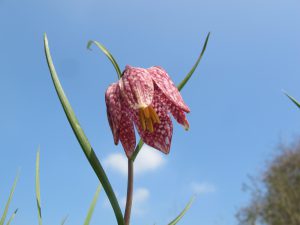 Reintroducing the livestock grazing to Broad Meadow posed a few challenges during the project. Due to the lack of infrastructure of the meadow site, the fact that there had not been any grazing animals in the meadow for a number of years, and the impossibility of getting machinery access to the site, work was required to alter the site to make it suitable for livestock. To do this, various handling facilities were introduced to the meadow, fencing was built along river banks, and higher areas of ground were created which would act to provide safe areas for the animals to reside during potential flooding episodes. Livestock drinking areas were made, and ditching works were carried out to encourage the growth and spread of the fritillaries. Access to the site was also improved for both the livestock machinery and the public.
Alongside the practical labour, the project involved working with local residents to help show them the importance of the site for the public as well as a valuable habitat for wildlife. Various community engagement events followed the completion of the project, enjoyed by many members of the public. Broad Meadow had a celebratory opening, and guided walks and annual fritillary counts continue to promote enthusiasm for the conservation of the site. Moreover, the annual 'Fritillary Festival' provides a fun way for families to celebrate and appreciate the beauty and importance of Broad Meadow.