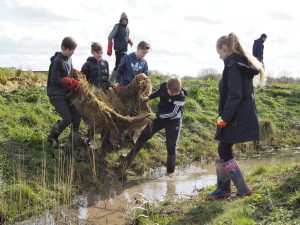 There were nine projects under this Programme, loosely divided into six overarching themes: heritage-focussed events, cultural heritage, practical conservation, community group support, youth engagement and schools engagement. Community engagement and participation in the scheme was the key to its success; inspiring and enthusing local people is the key to protecting and conserving the wildlife and heritage of the landscape for future generations.
We also explored Cultural Heritage, and one way in which we hope to capture the memories and stories of people within the Tame Valley is through online resources such as HistoryPin. Click here to learn more!
Ratty's Return
Ratty's Return is a community engagement project aimed at helping the public to be more aware of water voles and to understand their ecology and distribution in the area. We also aimed to identify potential sites for habitat improvement to aid the expansion of water vole populations.
Read more about Ratty's Return
Hedgerow Restoration
Between 2014 and 2017, Tame Valley Wetlands achieved the following project aims:
405m of hedgelaying achieved by volunteers and contractors
543m of hedgerow planted by volunteers and contractors
13 training days attended by volunteers
57 people trained in hedgerow restoration
Our aim was to restore 1000 metres of the Tame Valley's network of hedgerows by planting new hedgerows or restoring existing hedgerows by laying and gapping up. We also wanted to enable local people to learn the traditional art of hedgelaying as well as care and management of hedgerows.