Since May 2015, Tame Valley Wetlands Landscape Partnership Scheme has engaged with over 2,500 children from 31 different schools across Birmingham, North Warwickshire and Tamworth.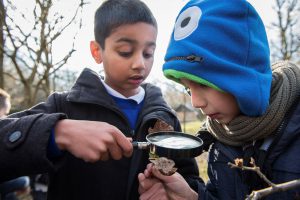 The children enjoyed a mixture of in-school sessions and field trips to the Tame Valley Wetlands, by learning about a variety of topics, including the Tame Valley's iconic River Tame.
For those traveling from inner city Birmingham who, in some cases, had never stepped outside the city, these trips were their first discovery of the countryside. Thanks to the Education Team at Warwickshire Wildlife Trust, the support from Castle Vale Environmental Trust and the Heritage Lottery Fund for funding the scheme, these children were able to explore more than the urban jungle they have grown up in and have been able to take away precious memories of the Tame Valley Wetlands.
Tame Valley Wetlands Landscape Partnership Scheme is led by Warwickshire Wildlife Trust and funded by the Heritage lottery fund. The scheme is also in partnership with a wide variety of organisations including, charities, local groups, statutory bodies and councils.