Six Months with the Tame Valley Wetlands team!
Six months already?! Yep, I couldn't believe it either but September is here and so much has happened. 
I'm Ebony, the marketing apprentice for Tame Valley Wetlands Landscape Partnership Scheme (LPS). I started this apprenticeship back in early April, straight out of a job at Jaguar Land Rover, building cars to marketing for the Tame Valley Wetlands. I had no idea what I was doing and to be honest I still don't have a clue but what I've realised it that it doesn't matter. As long are you're passionate about what you do and put 110% into your work, then everything is fine. I've been all over the shop, met many different people and gained some fantastic experience! Not to mention, reached a personal goal which I'll tell you about in a bit.
What I've been up to:
Firstly though, TameFest 2016 in May was a success and I am so pleased that I got to be a part of it. I created the posters and banners for the day plus wrote a follow up press release which was featured in the Tamworth Herald, Coleshill Post and Tyburn Mail. I also did all the social media promotions to try and spread the word and I am happy to say we had just over 1,500 people attend!
Along with the work put in to the biggest event of the year for us, I've helped to promote all of our other FREE events that we have on throughout the year. This has been helped by me attending one of our social media workshops which was led by Oliver Jenkins, the Social Sasquatch, marketing expert.
I've also attended the BTO Bird ID course, Intro to Bats, Amey work party volunteering day/Drop in volunteering day at Kingsbury Water Park and helped out on a few Wild Wednesdays!
Not only this but I've also had the privilege of working with our Youth Engagement officer, Nicola Lynes by helping out on youth days for groups such as WCAVA (Warwickshire Community and Voluntary Action), Tamworth Youth Club and NCS (UpRising Birmingham). It's great to see people my age and younger actively going out their way to make the local area better.
All this fun at events isn't the only thing that I've been a part of. I've attended numerous meetings including, the new interpretation and visitors centre which will be at Kingsbury Water Park. I've visited Nene Valley with the team and attended a board meeting down there. They have a beautiful site, you should definitely check it out! It's great for camping and family activities. I've also been to RSPB meetings. One was at the head Sandwell office in Birmingham for a promotional team meeting, allowing me to get to know how RSPB market and promote their organisation. The next day, I then went down to Banbury to their regional office for a brand meeting. This was fantastic and I got to see how and why they use such branding to create such a well established organisation.
It wasn't just RSPB that got their claws into me as Warwickshire Wildlife Trust invited me to an InDesign training day at Brandon Marsh. From this, I spent another day with Steve Cheshire, Marketing Manager getting to know InDesign and understanding how they do things. In fact, very soon I shall be going back over there to help out on their new events guide and to learn vital skills which will help me with the Tame Valley Wetlands promo.
But forget all of this that has happened because for me, the best and most positive achievement came about from a simple tweet about the youth groups we'd been working with –
---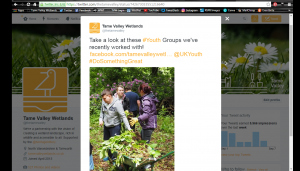 ---
The simple #DoSomethingGreat was the hashtag for BBC Springwatch, who got in touch through direct message asking for more info on the image, which was then subsequently shown on that evenings show! Thanks to Mary, BBC Springwatch Unsprung production team, not only did we get a mention but I personally took the image as well and was very, very excited about it all! Two seconds of fame for Tame Valley, so worth it 🙂
Throughout all of this fun, I am still in the process of completing my apprenticeship and I am doing very well, with fortnightly meetings with my HOET assessor, Dan Rombach. I should be completed in no time, with the help from Tame Valley Wetlands partners and the team.
What does the future hold?
Well, very soon our Community Wetlands officer Tracey Doherty shall be starting work on Tameside Local Nature Reserve as the Community Wetlands project is coming to a finish. Really kindly, she has asked me if I would like to lead all promotion for this project by attending meetings and meeting the relevant people to stay up to date from start to finish. I am also going to be working closely with Tamworth Borough Council's PR team which will add to my experience.
Not only that but I am working on introducing merchandise for people to buy for the Tame Valley Wetlands, as well as children's bag fillers for school items. I am also going to be getting new content for our soon to be new website which our Interpretation office, Chris Harris, is currently working hard on.
We have also partnered up with Fired Up Theatre for a cultural heritage project, which I will be working on, in order to spread the word about this new, unique project. There will be poetry, a Tame Valley Wetlands song and more… so make sure to keep an eye on our social media for when it kicks off!
A part from that, I will continue work on the events, promote the scheme and shall look forward to helping with next years TameFest 2017 in Tamworth.
If anyone is interested in becoming a part of the team like I have, we do have volunteering opportunities available – just take a look at our volunteering page via this link.
Here's some pictures of what we've been up to 🙂 
Visit www.facebook.com/tamevalleywetlands for more photos!
---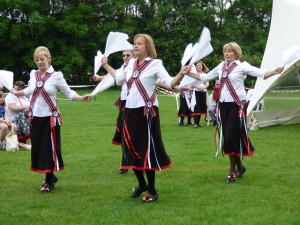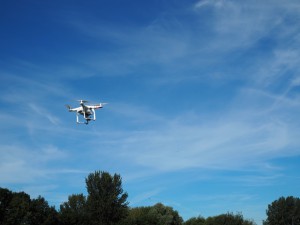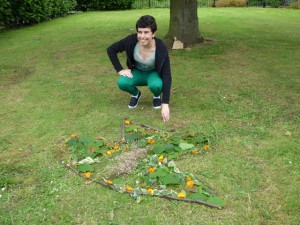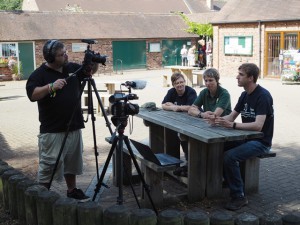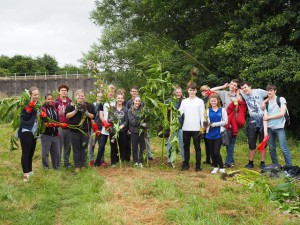 ---
P.S In my last blog, I wrote about my dog Rio. Sadly he passed away in May this year and the whole family were heartbroken. With the thought of never being able to get over not having a dog in the house, a couple weeks later we rescued one.
Everyone, meet Major! He's a long legged Staffy, who's 2 years old and full of energy. Originally from Norfolk, we don't know much about his past other than he was in kennels before being taken on by Ruff Luck Rescue in Atherstone. From there, we met him and instantly fell in love. This weekend just passed we took him back up to Ruff Luck for their Fun Dog Show, where he participated and won 5th place and a certificate on his first ever go! I was very proud to be standing there with him.