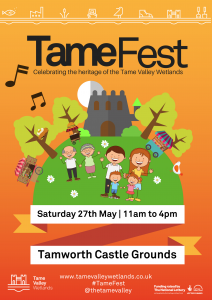 TameFest 2017 will take place on Tamworth Castle Grounds, on Saturday 27th May for its biggest edition yet.
Hosted by the Tame Valley Wetlands Landscape Partnership Scheme (LPS), TameFest is a fun event showcasing the vibrant heritage and landscape of the Tame Valley Wetlands area. Tamworth residents and travellers from further afield will be able to enjoy a range of family friendly activities, entertainment and shopping provided by local groups, businesses and charities, all for free.
TameFest has been on a journey through the Tame Valley Wetlands area since 2015. The first ever edition took place in Coleshill and welcomed over 750 people. Moving on up the River Tame to Kingsbury Water Park in 2016, it saw over 1,500 people attend, doubling it in size within a year. This year, it will take place on the scenic grounds of Tamworth Castle.
Rita Gries, Community and Events Officer at the Tame Valley Wetlands LPS said "We're very excited about this year's Tamefest. We will have the mix of shopping, food and fun educational activities that proved popular in the past years, from stone carving demonstrations to circus skills workshops. For the first time, we've also invited some out-of-time characters such as a pair of Saxon peasants and a Victorian "Bobby". We're hoping people will have a great time and learn something new about the area they live in!"
Tamefest runs from 11am to 4pm on the upper and lower lawns of Tamworth Castle. Entry is free of charge and most activities will be free. Dogs are welcome but must be on a lead at all times. For more information on the stalls, activities and performances that will be present, visit www.tamevalleywetlands.co.uk/tamefest-2017.
This project is part of the Tame Valley Wetlands – a landscape partnership scheme supported by the National Lottery through the Heritage Lottery Fund, aiming to create a wetland landscape, rich in wildlife and accessible to all.
The Tame Valley Wetlands is led by Warwickshire Wildlife Trust in partnership with a wide variety of organisations including charities, local groups, statutory bodies and councils.