Calling all landowners, come along to Southfields Farm, Coleshill, and learn about the importance of hedgerows for both wildlife and in helping to reduce diffuse water pollution.
Not booked on yet? Don't worry – you can turn up on the day.
Talks will be given by the Environment Agency, Campaign for the Farmed Environment and Severn Trent. There will also be information on various grant schemes.
Claim your FREE tree or hedging pack for attending the day!
*Terms and Conditions apply – see below.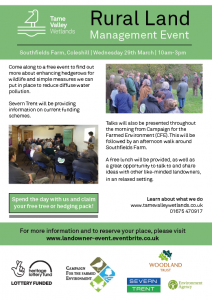 –> Click here for a better look!
Agenda for the day (Wednesday 29th March):
Arrive at 10am.
Start at 10:30am.
Talks on various subjects including hedgerows and their importance, diffuse water pollution and information on grants available from Severn Trent.
Break.
Talks (see above).
Lunch (free!).
Guided walk around Southfields Farm.
End of the day will be 3pm at the latest (most likely to be earlier).
---
This is for ages 16+. Any under 18's must be accompanied by an adult. This is an indoor and outdoor session so please wear suitable clothing as you'll be walking around a working farm. There may be long periods of standing and uneven ground. Access to toilets is available!
*Terms and Conditions: 
The trees / hedge plants will be planted within the Tame Valley Wetlands Landscape Partnership (TVWLP) Scheme area within fourteen days of receipt. Please see www.tamevalleywetlands.co.uk/project-area for a map of the scheme area.
 You will be responsible for undertaking any necessary routine management / maintenance to any assets installed on your land, ensuring they are kept appropriately and in good repair and condition for at least ten years from the date of completion on this form and in line with the Heritage Lottery Fund (HLF) Standard Terms of Grant and the Delivery Agreement signed in the development phase of the TVWLP Scheme (2013), if applicable.
 The assets funded by HLF as part of this project must not be sold for profit. Should landownership or land management / maintenance responsibilities change hands within this ten year period, you agree to ensure that the responsibilities outlined in this form are passed over to the new landowner / land manager and that they are fully aware of the terms outlined in this agreement.
 You also agree to give WWT (Warwickshire Wildlife Trust) as Lead Partner or HLF any financial or other information and records that they may need from time to time that relate to this project. You must allow HLF (or anyone they authorise) to have access to the project area for inspection or monitoring purposes, and understand that HLF may have access to your contact details (as a Third Party grant recipient) and the details of this activity / project agreement, and that they are able to enforce this (and carry out proceedings) against a Third Party should this agreement be broken. You understand that the intellectual ownership and copyright of all images / data created by this project remain that of the TVWLP c/o WWT, and that it must not be used for any other purpose than for this project. You will also provide the TVWLP with a location of the areas in which you undertake the planting.
 If work has taken place on a public right of way, under Section 146(1) of the Highway Act 1980, the owner / occupier of the land is responsible for the ensuring the route (including access infrastructure) is maintained in safe condition and to the standard of repair required to prevent unreasonable interference with the rights of users.
 If work has taken place on public land or in a publically-accessible area, you must endeavour to ensure that the immediate area and any structures / assets installed remain publically-accessible for at least ten years from the date of completion on this form. For this same length of time, you should also endeavour to ensure that HLF and the TVWLP are recognised as the funder and scheme (respectively) behind this project and visually promote this in line with their brand guidelines where practicable.
 You will ensure that you have gained any relevant licenses or permissions required to carry out planting on the site.