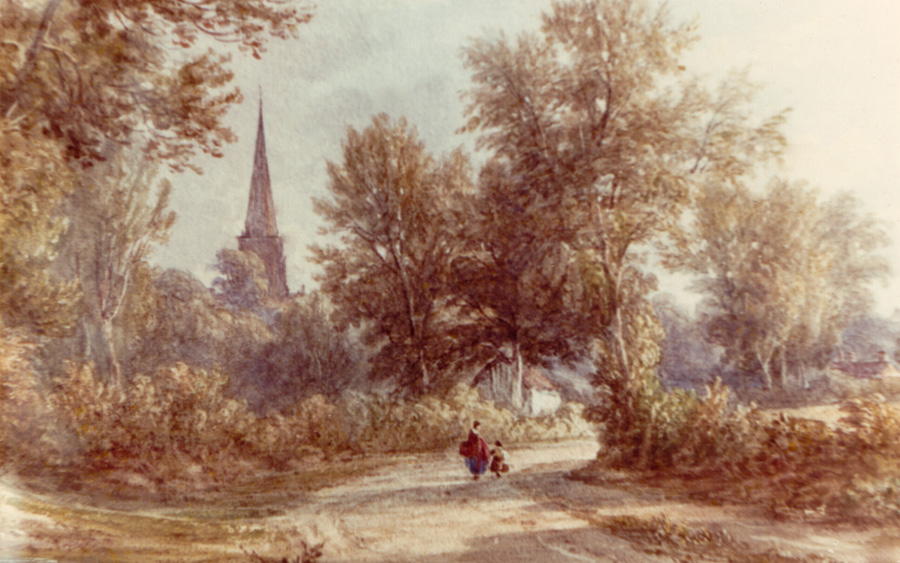 Coleshill from Whitacre – Painting by C R Stanley, 1861
The 16th Century brought many changes, including improved education, and Jethro Tull's seed drill. There were many tradespeople in towns such as Coleshill and Tamworth, many operating from houses. Blyth Hall, near Blyth End, was built in this post medieval period, together with fish ponds and a dovecote. The packhorse bridge over the River Tame at Blyth End, and the bridge over the river at Lea Marston were built in the same period.
The 17th Century was very cold and there was a huge demand for firewood, resulting in large areas of the woodlands of the Tame Valley being cleared.
Civil war disrupted daily life in the mid 17th Century, with labourers becoming soldiers and trade affected as well as skirmishes in the area, notably at Curdworth, the scene of the first skirmish of the war in 1642. A small royalist force held Tamworth Castle for the King, although they were eventually captured after a siege by parliamentarians.
The Turnpike Act of 1663 resulted in improved toll roads through the Tame Valley, with the toll road through Coleshill on the route from London northward to Chester and Holyhead and on to Ireland. Many coaching inns were built to accommodate travellers such as the Swan in Coleshill which was a staging post for the Royal Mail on its journey from London to Liverpool. Improvements to Watling Street followed and then the building of Thomas Telford's new Coventry Road, which is now the A45. Prior to this, travel through the area had been difficult as the heavy clay soils resulted in the roads becoming impassable in wet winters.