The new and improved Sand Martin bank has now been installed at Kingsbury Water Park's Community Wetland. This new asset completes the Community Wetland project, exactly one year after it started. See below for a film about the project…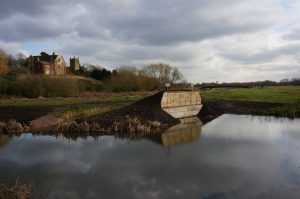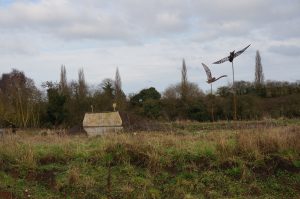 The Sand Martin bank's completion couldn't be more timely, as it was installed during National Nest Box Week and offers 51 burrowing opportunities for Sand Martins.
It is also exactly one year since the earthworks started to create the new 6 hectare wetland, which has created open water, reedbed, ditches and scrapes, as well as restoring floodplain connectivity to promote the development of rare floodplain meadow habitat.
A viewing platform and outdoor education area, a pond dipping platform, two oak benches, three interpretation boards and four willow sculptures have also been installed. And all on the floodplain of the River Tame, which only a few years ago was the location of waterlogged football pitches – not very useful for people or wildlife!
Here's a film about the project:
The £110,000 Community Wetlands Project was funded through Biffa Award, combined with funding already secured from the Heritage Lottery Fund, The Howard Victor Skan Charitable Trust and Environment Agency.
It was delivered by Warwickshire Wildlife Trust and Warwickshire County Council working together in Partnership and is one of a series of natural environment restoration projects identified by the Heritage Lottery Funded Tame Valley Wetlands Landscape Partnership Scheme.
With the help of local volunteers, the project also:-
Used 30kg of floodplain meadow seed on an area approximately of 5,200m².
Installed 10 bird boxes (including kestrel and owl boxes) and 3 bat boxes.
Planted 12,840 (230CC root trained) reeds.
Planted 2,680 pond margin and aquatic plugs.
Accumulated 1,181 hours of volunteer time (194 volunteer days)!
A big, big thank you to everyone who has helped us make this project a success.
The Community Wetland project aimed to create a new and exciting area of wetland that will act as a magnet for both wildlife and people and encourage visitors to interact with their natural environment. We believe we have achieved this and are already seeing great results within the first year.