Students at the Kingsbury School have been on a journey of discovery with the Tame Valley Wetlands as they explored their local country park as part of their John Muir Award. Working through the stages of 'Discover', 'Explore', 'Conserve' and 'Share', 12 students made the Community Wetlands at Kingsbury Water Park their base for their outdoor adventure.
The John Muir Aw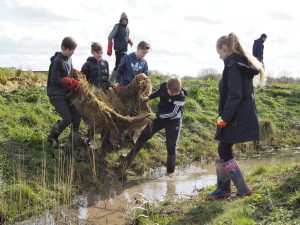 ard is a national environmental award, open to anyone. It encourages communities to explore and care for their local wild spaces, and share their discoveries along the way. The students from Kingsbury School spent 5 weeks completing their award, culminating in a presentation which they have shared with the rest of their school. Activities throughout the journey were decided upon and led by the students, and included building a bridge to cross a stream, fitting coir mats to improve the vegetation growth on the Community Wetlands, installing kingfisher nest boxes and learning to light fires using natural materials to ensure a ready supply of hot chocolate!
Nicola Lynes, Youth Engagement Officer for the Tame Valley Wetlands had this to say about the programme:
It has been great to see the students improve in confidence and ability throughout the award. They have learnt about the natural world on their doorstep, and have developed a care and understanding for their local areas through engaging with the environment and having fun outdoors.
This project is part of the Tame Valley Wetlands – a landscape partnership scheme supported by the National Lottery through the Heritage Lottery Fund, aiming to create a wetland landscape, rich in wildlife and accessible to all.
The Tame Valley Wetlands is led by Warwickshire Wildlife Trust in partnership with a wide variety of organisations including charities, local groups, statutory bodies and councils. Staffordshire Wildlife Trust is a partner on this project, employing a Youth Engagement Officer to improve outdoor youth provision in the Scheme area.