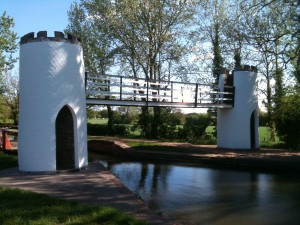 This unusual Gothic-style footbridge was probably built in the 1830s by the celebrated architect Sir Robert Smirke, while constructing nearby Drayton Manor for local MP Sir Robert Peel (later to become Prime Minister). The manor house was demolished in 1929 and later became the site of the Drayton Manor Theme Park.
The Grade II listed footbridge is located near to the entrance of the Drayton Manor theme park and is among the most ornate bridges anywhere on Britain's canals.
The bridge has been restored by the Canal & Rivers Trust as part of the Tame Valley Wetlands Scheme. Read more…
Where is it?