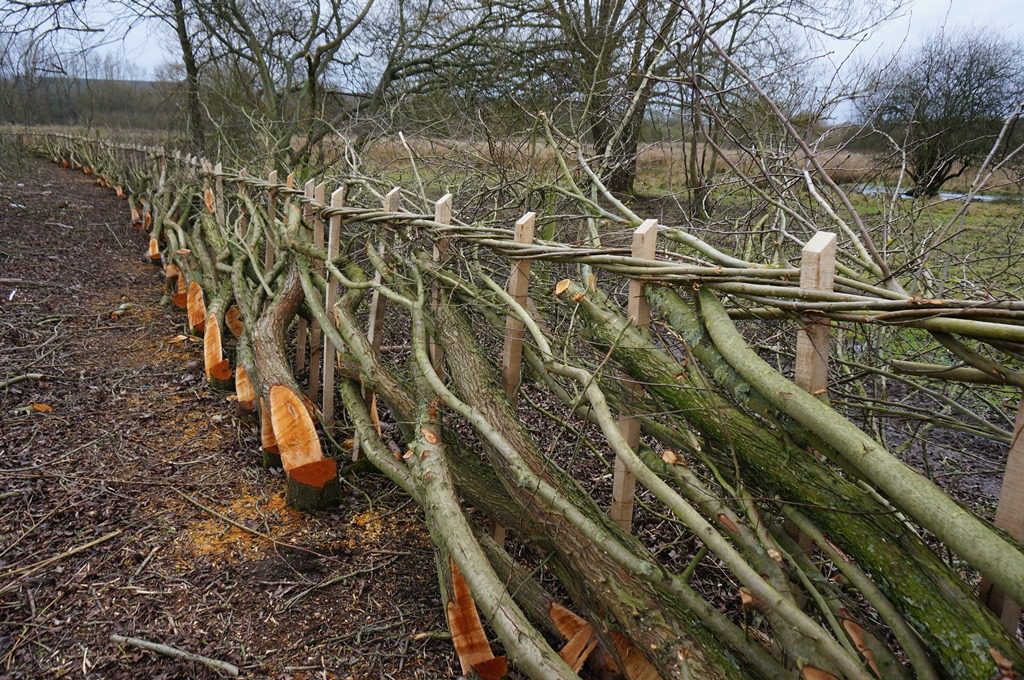 During January 2017, contractors working for Tame Valley Wetlands restored 170m of native hedgerow using traditional methods at Whitacre Heath SSSI, a site owned and managed by Warwickshire Wildlife Trust.
The hedgerow which has been laid had not been managed and was slowly turning into a line of trees.  A well managed hedge should be thick and bushy at the bottom, creating a perfect natural barrier for livestock enclosure.  By laying the hedge now, we will avoid having to coppice it to the ground in the future.
Other benefits include:-
Livestock can take shelter behind the hedgerow
It becomes an important haven for wildlife, connecting habitats along a linear corridor
It is a defining feature of the Warwickshire countryside and provides heritage value
A laid hedge will re-grow thicker and will have a longer life span than an un-managed hedge
This also increases biodiversity along the hedgerow
Consent from Natural England was granted to lay the hedge and also burn any brash created from the work.
Take a look at the before and after photographs using the slider to see the improvements made.
[twenty20 img1="4663″ img2="4664″ offset="0.5″] [twenty20 img1="4659″ img2="4658″ offset="0.5″]
(Photo © T Doherty 2017)
Funded by the Heritage Lottery Fund.
Partners involved:  Tame Valley Wetlands Landscape Partnership – Warwickshire Wildlife Trust, Natural England, Environment Agency