Himalayan balsam is meeting its match right now in the Tame Valley Wetlands scheme area thanks to the support from Banister Charitable Trust!
This important funding is enabling us to work with our partners to tackle this highly invasive non-native species using a combination of people power and rust fungus!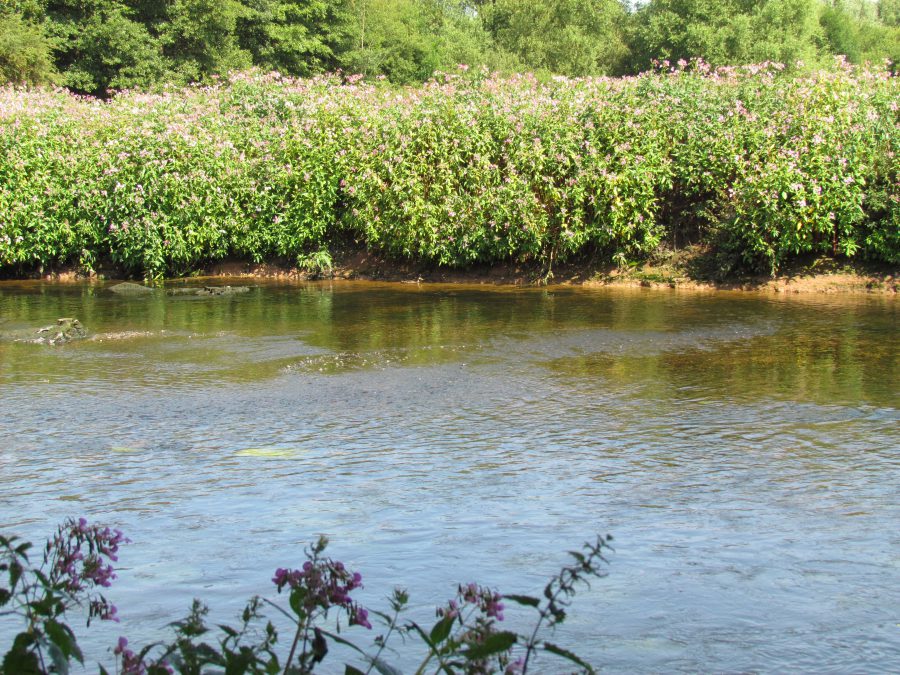 Photo above shows a dominated river bank with flowering Himalayan balsam at Whitacre Heath SSSI
Our project aims to create an exemplar of best practice on how to finally address the challenge of Himalayan balsam at a number of sites in the Tame Valley through a combination of:-
Working with volunteers to manage Himalayan balsam through easy practical methods (bashing / strimming / pulling) that everyone can do which can be easily maintained for at least 2-3 years.
reinstate native plant species which help bind the soil which will prevent it being washed away during winter flood events and also prevents nutrients entering rivers, degrading habitat and causing silts to cover important fish spawning gravels.
Improving biodiversity value of a site as native plant species are more beneficial to a wider range of pollinating insects who also benefit from a longer flowering season with a variety of flowers and grasses compared to a balsam dominated monoculture which shades out native species.
Work with CABI scientists to introduce a biocontrol to help 

manage

Himalayan balsam at a landscape scale with a 'species specific' rust fungus that has been given Government approval for release after 10 years of research and consultation.  It will not eradicate Himalayan balsam but will make it easier to manage, being one of a variety of plants on a site, instead of the dominant species we have now.
Be proactive and improve awareness of non native species in the scheme area, provide useful resources and highlight the importance of biosecurity 'Check Clean Dry' to prevent the spread of them.  It's as simple as cleaning the soles of your shoes properly to prevent seeds being transferred to another site!
Create a lasting legacy in the Tame Valley Wetlands on good practice.
Watch this space!
If you want to learn more, get advice or get involved with our non native species control project then email enquiries@tamevalleywetlands.co.uk.