Kingsbury Water Park is the jewel in the crown of Warwickshire's Country Parks.
Sitting in the floodplain of the River Tame, the 250 hectare site features a diverse range of habitats, including meadows, woodlands, lakes and pools.
The park also features many activities, including waymarked trails, cycle hire, model railway, water sports and fishing, and there is a cafe and visitor centre. Sitting at the heart of the Tame Valley Wetlands, the park acts as a gateway for exploring the wider landscape.
The history of Kingsbury Water Park
Until the late 1920s, the area around Kingsbury was quiet riverside meadows and woodlands, a rural landscape largely unchanged for centuries. However, beneath the ground lay valuable deposits of sand and gravel left over from the last Ice Age.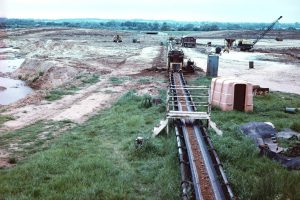 The area became a mineral extraction site in the 1930s. For almost 50 years, thousands of tonnes of minerals were extracted and used across the region in the construction of roads, bridges and buildings.
Eventually the mineral deposits were exhausted and by the early 1980s most quarries had closed, leaving behind huge open pits and a devastated landscape.
In the early 1970s, Warwickshire County Council set out on an ambitious plan to transform the area into a Country Park. Thousands of trees were planted, the derelict land was restored, and the quarries landscaped to form a series of lakes and pools. The park opened to its first visitors on 24th May 1975.
Since then, the park has welcomed millions of visitors and has grown from 123 acres and just two lakes to 620 acres and over 30 lakes and pools.
Today the transformation is almost complete. The park is a special place; a beautiful landscape we can all enjoy, a safe place to relax and play, and a haven for wildlife.
Access:
Visitor centre and main car park (pay on entry) on Bodymoor Heath Lane, Bodymoor Heath, B76 0DY. Toilet facilities (baby changing and disabled) are available. See the website for more information.
Contact:
For more information about Kingsbury Water Park visit countryparks.warwickshire.gov.uk.
Where is it?