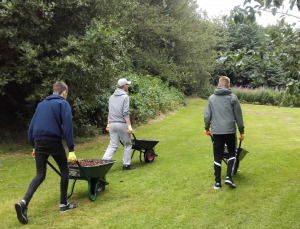 Over the summer, almost 100 young people on the National Citizen Service (NCS) gave their time to help out on Local Nature Reserves around Tamworth. As part of their NCS programme, run by UpRising Birmingham, the groups spend time visiting different community groups and charities in the area, then design and deliver their own social action project in their locality.
Tame Valley Wetlands Landscape Partnership Scheme hosted each group for a conservation taster day during their programme. The young people visited either Broad Meadow, Kettlebrook or Warwickshire Moor Local Nature Reserves, pitching in to help with tasks such as removing Himalayan balsam, laying bark chip along a path, or removing invasive willow. Each of these sites has a dedicated volunteer group made up of local people, and are supported by the Wild About Tamworth project. Although only visiting the site for a few hours, the NCS participants explored the area and put their energy into helping to complete a task which benefits the reserve and the people who use the areas.
Pam Clark, a volunteer at Warwickshire Moor, said this after the groups visited:
"Thanks to all the young people who came today. They worked hard for us and it really is much appreciated."
As well as attending the taster days, two groups also asked if they could return to do more conservation volunteering as part of their social action project. In total over the whole summer, 98 young people from Lichfield and Tamworth have spent over 260 hours giving their time to conservation volunteering in Tamworth. Nicola Lynes, Youth Engagement Officer for Tame Valley Wetlands, said:
"I'm really pleased at the hard work that has been put in by all the NCS participants. Our aim at the Tame Valley Wetlands is to introduce people to their local green spaces, and this has given the young people in Tamworth a chance to see the environment on their doorstep, learn ways in which they can care for it, and engage with it in a positive way."
This project is part of the Tame Valley Wetlands – a landscape partnership scheme supported by the National Lottery through the Heritage Lottery Fund, aiming to create a wetland landscape, rich in wildlife and accessible to all.
The Tame Valley Wetlands is led by Warwickshire Wildlife Trust in partnership with a wide variety of organisations including charities, local groups, statutory bodies and councils.
For more information, contact Nicola Lynes at youth@tamevalleywetlands.co.uk or on 01675 470917.