A team of 16-17 year-olds from Tamworth's National Citizen Service (NCS), led by UpRising Birmingham, have given over 300 hours of their time to volunteer with the Tame Valley Wetlands Landscape Partnership Scheme at Tameside Local Nature Reserve (LNR) in Tamworth.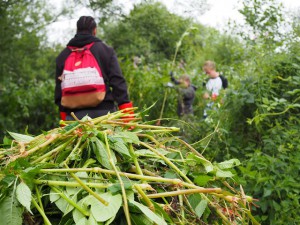 Three days of practical conservation at Tameside LNR saw the youth group work tirelessly in the boiling sun and pouring rain to help carry out important reserve management. Tasks included non-native species control, focussing on Himalayan balsam, which is well known for its notorious spreading ability, outcompeting native species and increasing riverbank erosion. The team also tried their hand at some reed planting and meadow management, which entailed raking the meadow grass and creating hay stacks.
  The tasks will help improve a variety of habitats and increase the number of species living on this important wildlife site and area of floodplain next to the River Tame.
In addition, the NCS team delivered a fundraising and awareness day, where they spent the day in Tamworth's town centre, selling cakes and raising awareness of the wider Tame Valley Wetlands area. By the end of the day they had ran out of stock and raised a fantastic £123.74 for Tameside Wildlife Conservation Group. All the proceeds will be spent to further improve Tameside LNR for people and wildlife.
Nicola Lynes, Youth Engagement Officer for the Tame Valley Wetlands Scheme said "We are honoured to have been chosen to be the group's social action project for NCS and are really grateful for the time they spent volunteering with us".
Ron Timms, Treasurer of Tameside Wildlife Conservation Group said "the effort they put in was excellent and I hope they enjoyed their experience".
Are you interested in helping improve your local environment? Go to our volunteering page for opportunities available for all ages and abilities, and follow us on social media to keep up-to-date with everything that's going on throughout the summer holidays.