Himalayan balsam (Impatiens glandulifera) may look quite attractive initially, but it is in fact a non-native invasive species (NNIS) causing a major problem.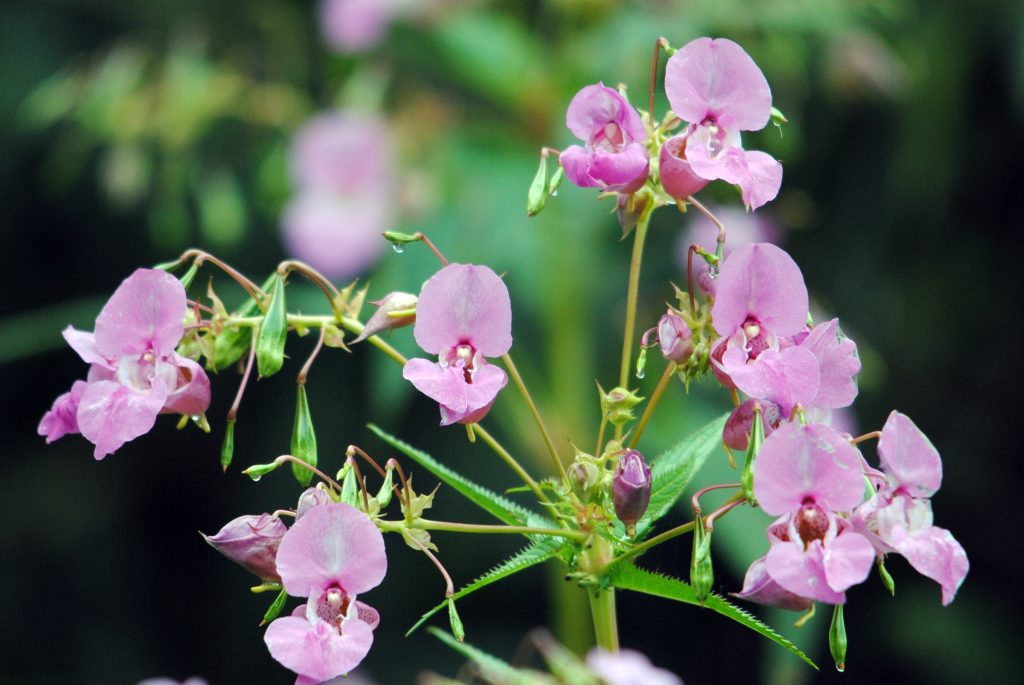 Non-native invasive species cost millions of pounds each year to control. Their negative effect on our native wildlife and habitats is of deep concern to conservation groups.
Introduced to the UK in the 19th Century as an ornamental plant, the spread of Himalayan balsam to the wider environment has negatively affected rivers, floodplains, connected ditches and waterbodies.  The plant disperses its seeds very widely and very efficiently, with each plant producing up to 2500 seeds that are released and catapulted to distances of up to seven metres! The seeds are then widely spread through rivers and floodings, meaning the plants eventually colonise and take over entire river banks and connected wetlands.
Because Himalayan balsam grows extremely rapidly, it out-competes the native plant species growing nearby. This is problematic: if other plant species are not able to survive, the biodiversity of the environment decreases immensely. It is important for a natural ecosystem to have a high level of biodiversity with many different species so that it is stable and more resilient.
The plant grows especially quickly on riverbanks, and the River Blythe is no exception. Part of our work during Blythe Alive! involves using biological and mechanical control methods to clear the area of balsam so that other plant species are able to thrive and bring back the river's biodiverse and healthy ecosystem environment.
Biological control of Himalayan Balsam
Working alongside CABI (Centre for Agriculture and Bioscience International), Tame Valley Wetlands have been trialling a rust fungus as a method of biocontrol to target Himalayan balsam. Biocontrol refers to when a living organism is used to control a pest or weed, and has been successful in many other circumstances.
Making sure biocontrol methods are successful requires lots of trialling and testing, which is even more important in this situation because the rust fungus must to grow specifically on the particular plant species we are trying to get rid of. It is essential to make sure the fungus survives over the cold winter; if it did not, it would not make a useful long-term biocontrol method.
Mechanical control of Himalayan Balsam
We have been using mechanical control methods alongside our biocontrol efforts to tackle the Himalayan balsam affecting the River Blythe.
Mechanical control is an alternative to biocontrol. Such methods involve physically removing the invasive balsam plants from the area. Whilst mechanical control is considered a more immediate way to remove an invasive species, it requires a lot of ongoing manual labour from workers and volunteer groups which can take a lot of time. On the other hand, mechanical control is a reliable method of removing an invasive species.