The re-profiling of the River Cole, located upstream of the River Tame in North Solihull, is an important project aiming to enhance the biodiversity and aesthetics of the river. Working alongside Solihull Metropolitan Borough Council and the Environment Agency, with support from our National Lottery Heritage Fund (NLHF), the project will make the River Cole better for both wildlife and people visiting the area.
Initial assessment of the River Cole concluded that it was an unsuitable environment for wildlife, because of its poor water quality and low variety of different habitats available for a diverse range of species to thrive. Therefore, project planning commenced to decide what improvements could be made to the worst areas of the river.
The poor quality of the water was found to be because of urban pollution further up the river, such as regular use of overflows by sewerage systems and runoff from roads or agricultural land. Work by Severn Trent will make sewerage systems more efficient, find alternative drainage options from roads, build buffers along the river banks and promote use of more environmentally-friendly farming methods. This will mean the water in the River Cole can be made cleaner so it provides a safer environment for the development of fish populations. Moreover, placing large hay bales along the edges of the river will help to catch any sediment; this clever technique ensures that sediments do not contaminate the river.
The habitat quality and diversity of the River Cole was another important area identified for improvement.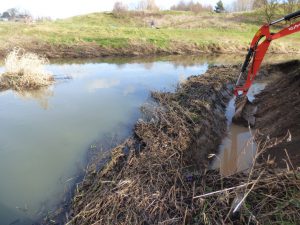 Because of human activity and the high energy water flow which had gradually eroded the river banks, the structure of the River Cole had been changed over time so that it became straightened and unvaried. This had a negative impact on the diversity and richness of different wildlife species inhabiting the river. It also meant that the river was unable to accommodate large populations of wildlife.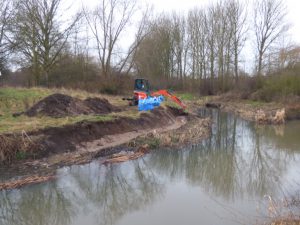 Work to improve the quality and variety of habitats in the river involved creating more islands and meanders (bends in the river course), planting more trees and shrubs along the river banks, and introducing gravel to the river bed. Adding these kinds of features improved the environmental diversity and allowed a greater variety of plants and animals to thrive in the area, especially different fish species. It also improves the visual aesthetics of the river, making it a more enjoyable place for people to visit.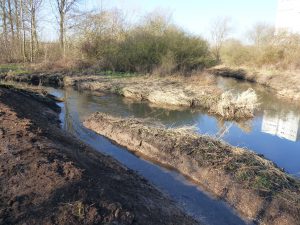 Work on the River Cole project began on Monday 11th February 2019 and was complete by the end of the week. The re-profiling involved working mainly within a 300m section of the river. By improving this space, with a focus on the quality of the water and surrounding habitats, the project will yield many benefits in terms of the River Cole's natural diversity and public appeal.