Who can get involved?
Primary/Secondary Schools
Special Educational Needs Students
Scout and Guiding Organisations
The Tame Valley Wetlands (LPS) are offering the opportunity for local schools to get involved and learn about the Tame Valley Wetlands. Our staff will provide classroom-based sessions for the children plus give advice on creating wildlife-friendly outdoors classrooms within their school grounds. We will also be encouraging field trips within the Tame Valley landscape, where children can learn about the wildlife and heritage sites on their doorstep!
For more information, contact: training@tamevalleywetlands.co.uk
Go wild in the Tame Valley Wetlands: activity and resource pack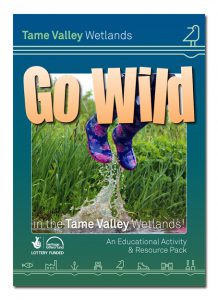 The practical activities in this pack have been written in a flexible format which allows teachers or other group leaders to adapt them to their own needs. They are aimed at children aged between 7 and 11 years, although many will also be enjoyed by younger children or older students, according to their curriculum needs.
For more information, contact: training@tamevalleywetlands.co.uk 
Download a PDF copy (8MB)