Bring your class to Hams Hall Environmental Centre, a hidden oasis of nature in an industrial world. Supplement your class learning with a hands on experience of nature. Our experienced staff bring learning to life in our walled garden and woodlands!
We currently cater for programmes up to KS2, with a range of programmes on offer:
River studies
Trees and woodland
Underwater Habitats
Minibeast Mayhem
Hams Hall Heritage
We have a fully equipped classroom and separate toilet facilities for the class, and all our activities are fully risk assessed and delivered by experienced and DBS checked staff.
Frequently asked questions
How much does it cost per child?
Primary: £4.50 for a half day and £6.50 for a full day. All prices exclude VAT.
Why are you charging for trips now, when they were free before?
We have been lucky enough to receive National Heritage Lottery Funding for the last 4 years, allowing us to deliver school trips and much more at Hams Hall Environmental Centre at no cost to the schools. This funding came to an end in 2018, but we are continuing the great work and momentum that we have built up during the project so far. In order to do this, we must become a sustainable project and cover our costs, which is why we are now beginning to charge for school trips to Hams Hall Environmental Centre.
What time does my trip start?
Full-day trips start at 10am and finish at 2:30pm
Is there somewhere to eat lunch?
Hams Hall Environmental Centre has an outdoor area for you to eat lunch outside if you wish. If the weather is bad you can eat lunch in our classroom. Currently there are no facilities to purchase refreshments on site so we ask that you bring your own packed lunches.
Is there a shop?
There is currently no shop at Hams Hall Environmental Centre.
What happens if it rains?
We will always try and complete all the sessions as planned, but please ensure that all students are dressed appropriately for the weather.
We can also visit you at your school or at a local nature reserve and run some of our educational programmes or even our new Forest School sessions for you. It helps to keep transport costs to a minimum as well as being greener and allowing you to utilise the wild spaces you have on your doorstep. For more information please contact us.
For more information or to book your trip, contact: enquiries@tamevalleywetlands.co.uk
Go wild in the Tame Valley Wetlands: activity and resource pack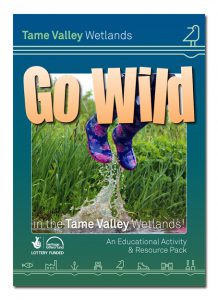 The practical activities in this pack have been written in a flexible format which allows teachers or other group leaders to adapt them to their own needs. They are aimed at children aged between 7 and 11 years, although many will also be enjoyed by younger children or older students, according to their curriculum needs.
Download a PDF copy (8MB)