There are around 2500 species of moths in the UK. Compared to the 60-ish species of butterflies, this is impressive. The great diversity of moth species makes for some fascinating findings from moth trapping – all possible within your garden.
Despite the huge number of moth species living here, we don't often see them unless we are actively looking, because, of course, most moths are nocturnal – hiding away in the day and coming out when it is dark. Moth trapping is a simple and humane way to identify and take a closer look at moths by attracting them to a light source. The method is harmless to the moths, allowing them to be safely released or free to fly away.
Traditional moth traps can be bought or made at home if you are more serious about recording and identifying moths, however for beginners a simple and effective methods is to create a light trap using a sheet and a torch.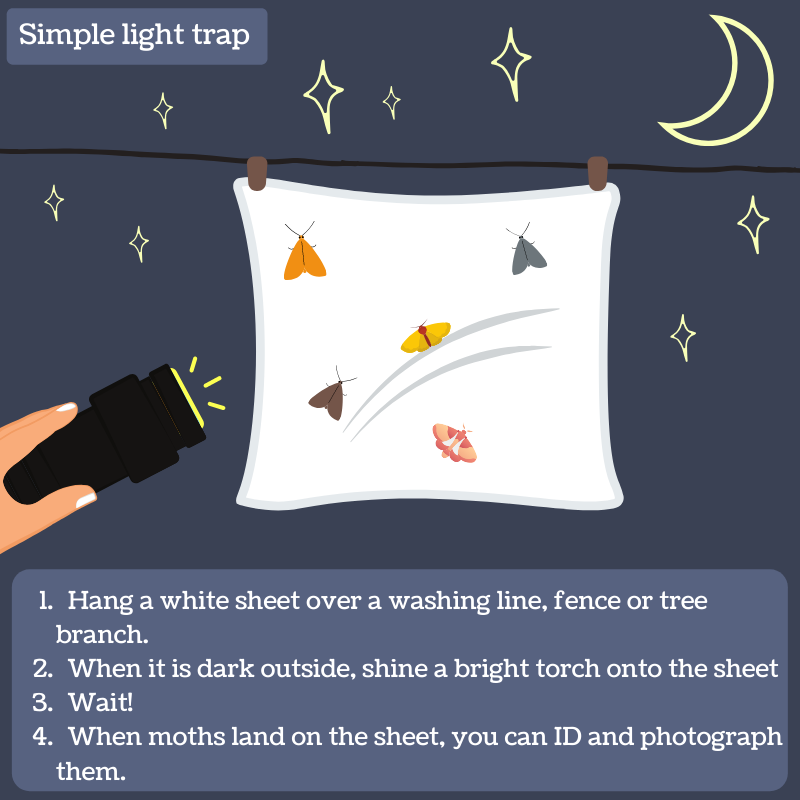 Tips:
Make sure it is dark when you use your moth trap – turn off nearby lights too.
You can also create a similar trap by spreading a sheet out on the ground and placing a standing lantern-style torch in the middle.
Moths will be most active on warm nights with a little breeze.
Avoid touching the moths, especially on their wings, as this can damage them.
Avoid setting up your trap every night as this can disturb behavioural patterns of moths and other insects.
It is National Insect Week this week (22nd to 28th June 2020), so this is a great way to get involved and celebrate the most diverse and ecologically important group of land-living animals! If you have a camera, why not take some pictures of the moths you find – send us your photos at enquiries@tamevalleywetlands.co.uk. You can even enter them into the official National Insect Week photography competition if you're feeling extra artistic!