Tameside was historically pasture land and is now a valuable site for wildlife and people.
The reserve was created following the building of the A5 bypass, when material was extracted from the site for the construction of road embankments.
Tameside covers 18 hectares, with a 3.2 hectare lake as the most prominent feature. The lake has four small islands, and is a great place to spot little egrets, herons and lapwings. The River Tame passes through the reserve and a small link to the lake enables fish to take refuge from the fast water and spawn. Kingfishers are regularly seen feeding along the river bank and barn owls may be observed hunting for small mammals over the rough grassland.
The reserve is a mix of grassland, scrub, ponds, and scrapes, and new areas of woodland have been planted across the site. All of this encourages many different species, from foxes and other small mammals, to an abundance of birds, insects and plants. Look out for dragonflies, marsh frogs and grass snakes.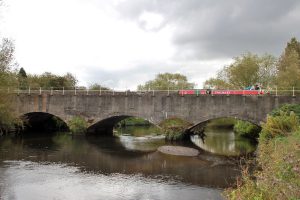 There are a number of trails around the site that link to the River Walk into Tamworth and up on to the towpath of the Birmingham and Fazeley canal, which crosses the river on an aqueduct at the southern end of the reserve.
The LNR is managed by Tameside Wildlife Conservation Group through the 'Wild about Tamworth' project, a joint initiative between Staffordshire Wildlife Trust and Tamworth Borough Council.
Look out for…
Access:
From Fazeley Road – no on-site parking available.
Contact:
For more information about Tameside and the Tameside Wildlife Conservation Group go to tamesidelnr.wordpress.com
For more information visit the Wild About Tamworth website at: www.tamworth.gov.uk.
Where is it?