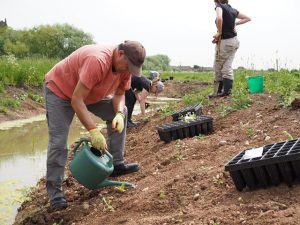 This year has been a busy one for the Tame Valley Wetlands Landscape Partnership Scheme. Led by Warwickshire Wildlife Trust and funded by the Heritage Lottery Fund, the scheme has delivered 33 events with approximately 2,400 attendees and 57 training sessions with 560 attendees. Click here to download the latest Activity Guide.
In early April, the scheme also took on a full time apprentice and currently has 5 City & Guild traineeships in progress. Many school children have been engaged with approximately 730 children attending over 30 school sessions from various schools.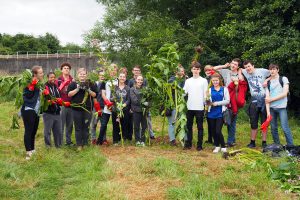 Through the TameForce volunteer group, corporate days and drop-in volunteering, 73 practical conservation sessions have been delivered and approximately £60,000 worth of volunteer time has been given over the last 12 months.
Not only that but 95 metres of hedgerow has been restored, a 6 hectare new wetland has been created at Kingsbury Water Park and a 140m new river channel has been established at Tameside Local Nature Reserve on the River Tame in Tamworth.  Thanks to Biffa Award, the Environment Agency, the Heritage Lottery Fund, The Howard Victor Skan Charitable Trust, Tamworth Borough Council and Warwickshire County Council for their support and funding, plus all other funders and partners involved in the scheme.
A brand new website has also been launched and created lots of information for people to start discovering the Tame Valley Wetlands for themselves, including leaflets and interpretation panels.
Click here to download the Tame Valley leaflet and start discovering the area for yourself!