Volunteering
This week we've celebrated volunteering and encouraged people to join in. Volunteering is an essential asset to any charity, movement or local group as without it, many of these amazing organisations may not have been here today!  Not only does volunteering help organisations but people as well. Volunteers usually feel a sense of fulfilment and enjoyment when they are helping and get to see, discover and explore many things that you'd miss in every day life. It is not only a haven but a path, helping guide people into what they really want to do. They create lasting memories from which nothing else may compare to. Get involved, be a part and free yourself to the world that's right at your feet.
If you don't quite believe me, then take a glance at what our Youth Engagement Officer, Nicola Lynes, has to share…
#volunteersweek – an account of volunteering from our Youth Engagement Officer
Hi, my name is Nicola and I am the Youth Engagement Officer for the Tame Valley Wetlands Landscape Partnership Scheme. I am passionate about nature conservation, volunteering and working with children and young people, and my job is a fantastic combination of all of these!
I started volunteering with Millennium Volunteers when I was still at school. My main reason for joining was because it would help towards my university applications, but I soon realised that volunteering with friends and going on residentials  was a lot more fun than I first thought!
I then spent my gap year volunteering for Conservation Volunteers Australia. For 5 months I worked in some stunning places and lived with some amazing people, and this is where my love of nature conservation stemmed from. Even the bad bits (like planting trees in the pouring rain and splitting my trousers on a barbed wire fence!) were offset by the incredible experiences like searching for nesting turtles by moonlight along the coast of Queensland.
Back in the UK, I went to university to study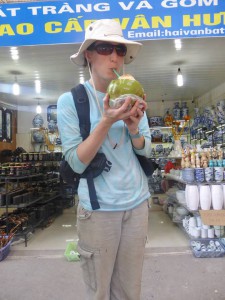 Environmental Science. My course included a Year in Industry, and I spent mine on a full time volunteer placement for South Norfolk Council. Even though I had to work in a restau
rant in the evenings to pay rent, this placement gave me the confidence, skills and knowledge I needed to start making nature conservation my career. I also discovered that I had a talent for environmental education, which would eventually lead me to living in Thailand for a year!
Soon after this, I started volunteering for Concordia International Volunteers, who have been the single greatest influence on my life and career so far. Through Concordia, I have created botanical gardens in rural Spain, co-ordinated international volunteers on projects in West Sussex and Brighton, attended conferences and workshops in France and Denmark, and taken Girl Guides to Vietnam and South Korea to volunteer on community projects. Volunteering with Concordia has allowed me to travel across the world and visit places which I would never have dreamed of going – or never could afford to go to! – of my own accord.
My volunteering is what got me my first graduate job as an environmental instructor at an activity centre, then as an environmental educator in Thailand for a year, and most recently my current position. I can say confidently that I would not have landed any of those paid positions without the valuable experience I gained while undertaking unpaid voluntary work. There have been many other organisations that I have also been involved with, and whether I volunteer somewhere for 1 day or 6 months, I always come away with a feeling of satisfaction and fulfillment that I have benefitted an organisation by giving my time and skills for free.
I volunteer because it makes me happy. It has given me the skills I needed to get paid work in the field I wanted to work in. It gave me experience in areas which I didn't think I would enjoy, but ended up making my job and career. I have made great friends. I have seen, touched and smelt beautiful places on Earth. In short, I wouldn't be who I am and where I am today without my volunteer experiences – long may they continue!
If you are interested in gaining voluntary experience with the Tame Valley Wetlands, head over to our volunteering page.