There has been a journey of discovery this year, as young people from Project Nirvana, run by Warwickshire Community and Voluntary Action (WCAVA) and Skillstank CareFirst in Tamworth, got involved in learning new skills, exploring different areas and contributing their time towards the the conservation of the Tame Valley Wetlands – a valuable and hidden landscape located between Birmingham and Tamworth.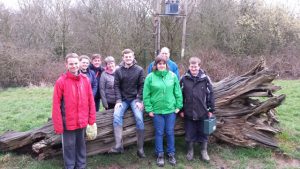 Participants in the both groups have learning or physical difficulties. The sessions provided them with an opportunity to explore the natural world in their local area and get involved with conservation tasks in a safe, fun and engaging way. They tackled invasive species such as Himalayan Balsam plus cut back spreading bramble, planted a hedge and tried their hand at different bushcraft activities. The CareFirst group has also become a dab hand at lighting a fire to boil water for our mid-morning tea break!
Not only have the groups seen health benefits from being active outside, but working as a team has helped some of the participants build up their confidence and communication skills. Sarah Murray, Community Development Officer for Warwickshire CAVA had this to say about the sessions:
"The activities that they took part in at Tame Valley encouraged some young people, who had previously not met or not spoken, to get to know each other and work together."
This youth project is part of the Tame Valley Wetlands – a landscape partnership scheme supported by the National Lottery through the Heritage Lottery Fund, aiming to create a wetland landscape, rich in wildlife and accessible to all.
The Tame Valley Wetlands is led by Warwickshire Wildlife Trust in partnership with a wide variety of organisations including charities, local groups, statutory bodies and councils.
Other activities delivered by the Tame Valley Wetlands include a youth conservation group open to all 16-25 year olds, delivery of the John Muir Award to groups, and a wide range of taster days and volunteering opportunities. For more information, visit our website at www.tamevalleywetlands.co.uk