The River Tame flows past nearly 2 million people on its journey from source to the confluence with the River Trent.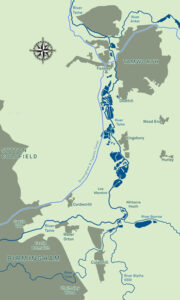 Within the Tame Valley Wetlands, the River Tame meanders past at least ten distinct settlements.
Castle Vale is the most south-westerly settlement, with an approximate population of 10,000 people, and has a distinctly modern residential character stemming from its history as a post-war overspill estate from Birmingham. Leaving east Birmingham, the river winds past Water Orton, with its 16th century pack-horse bridge, and Curdworth.
Curdworth is one of the first recorded Anglo-Saxon settlements in the Midlands, founded by the Mercian King Creoda in 585AD; 'Curdworth' is a corruption of 'Creoda's Worth' – 'worth' meaning an enclosed settlement. The village is also the site of the first 'battle' of the English Civil War (1642 – 49); in August 1642, Parliamentarian and Royalist forces clashed near Curdworth Bridge.
On to Coleshill. Coleshill has its origins in pre-Roman Britain; a small Iron Age settlement has been found on Grimstock Hill. In the early Middle Ages the nucleus of the town moved to its present location, on a ridge overlooking the rivers Cole and Blythe. During the 16th and 17th centuries, Coleshill became important as a major staging post on the coaching roads from London to Chester, Liverpool and Holyhead. At one point there were over twenty inns in the town.
After Coleshill, the Tame swings north at Hams Hall, past Lea Marston and Whitacre Heath. These small villages have a different feel, due to their more rural location in North Warwickshire, and their history of mining.