About the Partnership
The Tame Valley Wetlands Landscape Partnership, or TVWLP for short (formerly the Tame Valley Wetlands Partnership), was set up by Warwickshire Wildlife Trust in 2005 with the vision of working in the Tame Valley Wetlands Living Landscape area to 'create a wetland landscape, rich in wildlife and accessible to all'.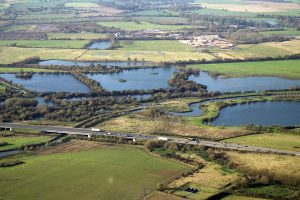 If we are to protect our natural environment for future generations, we need to work at a landscape scale, working closely with landowners, organisations and local communities. We are working with an even bigger picture in mind too, linking with Nature Improvement Areas (NIAs), the Environment Agency's Catchment Based Approach (CaBA) in the Tame, Anker, Mease Catchment and the wider Humber River Basin Management Plan and EU Water Framework Directive.
The Tame Valley Wetlands Landscape Partnership currently consists of 22 partner organisations, from local groups and wildlife charities to Borough and County Councils and the Environment Agency.
The work of the Partnership shows that conservation and enhancement of biodiversity can go hand-in-hand with social and economic regeneration. There is increasing public recognition of the wider benefits of naturally-functioning floodplains and their role in flood control, including enhanced protection for settlements downstream, the maintenance of a diverse and rich landscape, and the restoration and creation of lost wetland biodiversity. Wetlands also perform a key role in improving water quality, and their benefits reach even deeper – they provide a place for sensitive recreation and relaxation too, helping to improve our health and well-being.
By organisations, landowners and communities working together, the Partnership aims to enhance these 'ecosystem services' of the Tame Valley and increase habitat connectivity across Staffordshire, Warwickshire and Birmingham. This can be achieved by enhancing, restoring and creating new wetland habitat, which will enable wildlife to survive the impacts of natural and man-made events and adapt to the effects of climate change, with the ultimate vision of creating a wetland landscape rich in wildlife and accessible to all.
The Partners
The Tame Valley Wetlands Landscape Partnership (TVWLP) is led by Warwickshire Wildlife Trust and supported by a large number of organisations, including government agencies, local councils, non-governmental organisations and charities.
The Partnership is free to join and open to any organisation or local group that share our vision and would like to help steer the scheme and make a difference in the area. Please contact us if you are interested in joining the Partnership or helping us find the additional funding we require. Currently there are 18 partner organisations:
Board Members
(in alphabetical order):

Wider Partnership Members
(in alphabetical order):