The Tame Valley Wetlands, spanning from Birmingham through rural North Warwickshire and Tamworth, is a landscape of real importance for society and nature, and one which is under substantial pressure.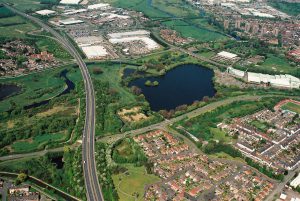 The canal network and the River Tame and its floodplain form the largest series of interconnected wetlands in the Midlands – this connectivity and availability of open space is a vital asset for both people and wildlife.
The Tame Valley Wetlands Landscape Partnership, led by Warwickshire Wildlife Trust and supported by a variety of organisations including charities, local groups, statutory bodies and councils, formed over 10 years ago in recognition of the importance of this landscape, with the vision 'to create a wetland landscape, rich in wildlife and accessible to all'.
Over the last 2 years alone, thanks largely to funding from the Heritage Lottery Fund, Biffa Award, Environment Agency and other partners, the Partnership has invested just over £1 million towards realising this vision through the Tame Valley Wetlands Landscape Partnership Scheme.
Work has involved restoring the floodplain and improving the river in Kingsbury and Tamworth by re-naturalising the channel and reinstating an historic river island; restoring the Drayton Turret Footbridge – an iconic 200 year old Grade II listed structure on the canal, formally owned by Sir Robert Peel; and enhancing hundreds of metres of hedgerow for the benefit of wildlife.
Over 100 free events and training sessions have been held with more than 4,000 local people in attendance. The Scheme also offers education and youth sessions and has so far engaged over 1,500 children and young people. These activities, as well as new interpretation boards, footpaths, circular walks and learning resources are all designed to help people discover the wonderful landscape on their doorstep.
The Tame Valley Wetlands not only provide a vital role in reducing flooding, improving water quality and providing a home for wildlife; they are also special places for people to relax and enjoy, improving health and wellbeing. A key aim of the Scheme is to encourage responsible and improved access to the countryside and nature reserves for people living in Tamworth, Kingsbury, Coleshill, Castle Vale, Water Orton and nearby villages.
Tim Haselden, Tame Valley Wetlands Landscape Partnership Scheme Manager said "The Tame Valley Wetlands are a 'blue lung' in an area of the country otherwise dominated by transport routes and development. Thanks to partners, landowners and funders, we have been working hard to enhance the landscape, improve access for people and raise awareness of its importance. The arrival of HS2 in the area over the next few decades is the next chapter for the landscape. With Royal Assent now given and construction starting in the spring, we will be working with local people and our partners to challenge HS2 Ltd to raise its ambitions for the natural and historic environment of the Tame Valley Wetlands".
The Partnership commissioned a report by Professor Kathryn Moore which looked at the whole Tame Valley river catchment. Its aim was to develop a broad vision and to challenge the thinking of developers in light of HS2 and the demand for housing, highlighting the role they must play in providing quality green infrastructure, protecting and enhancing the landscape and leaving a legacy we can all be proud of.
The Partnership will continue to work to deliver their current Heritage Lottery Funded Scheme and to look at the big picture, striving to create a greener future and vision for the area's wildlife and communities. There will be a Community Gathering on Saturday 25th March in Water Orton where people are invited to find out more about the work of the Partnership. TameFest – a large free event showcasing the Tame Valley Wetlands – will also take place in Tamworth Castle Pleasure Grounds on Saturday 27th May.