The Tame Valley Wetlands (Landscape Partnership) Scheme is a large, landscape-scale scheme with local people, waterways, heritage and wildlife at its heart.
Thanks to funding from the National Lottery through the National Lottery Heritage Fund (NLHF) and organisations on the Tame Valley Wetlands Landscape Partnership, the Tame Valley Wetlands Landscape Partnership Scheme (TVWLPS) was delivered between 2014 and 2018.
The scheme covers an area of 104 km² (10,350 hectares to be precise!) in the Tame Valley, following the River Tame between Birmingham and Tamworth, in North Warwickshire and south-east Staffordshire.
With funding from partners and NLHF, detailed development and consultation work was carried out to fine tune the scheme. This culminated in a second round application to NLHF in December 2013, which included the production of a Landscape Conservation Action Plan – a detailed plan for the scheme and the Partnership's 'mandate for the landscape'.
In 2014, the Partnership was awarded £1.7 million by NLHF to deliver a £2.5 million scheme (with full funding later secured).
Our Vision:
To create a wetland landscape, rich in wildlife and accessible to all. This will be achieved by taking a landscape-scale approach to restoring, conserving and reconnecting the physical and cultural landscape of the Tame Valley. By re-engaging local communities with the landscape and its rich heritage, a sense of ownership, understanding and pride will be nurtured to ensure a lasting legacy of restoration and conservation.
Aims and Outputs
To achieve our vision, four aims were identified, which reflect the four themes of the Heritage Lottery Fund's Landscape Partnership funding stream, as well as the overarching aims of the Partnership.
Read about our aims and outputs
Our four principal aims:
Conserve, enhance and restore built and natural heritage features in order to improve the fragmented and degraded landscape of the Tame Valley. Emphasis will be given to linear features such as the River Tame and its floodplain, the canal corridor and historic hedgerows.
Reconnect the local community with the Tame Valley landscape and its heritage by engaging and involving people of all ages, backgrounds and abilities with their local green spaces, sites of heritage interest and the conservation and restoration of these places. Emphasis will be given to engaging hard-to-reach groups, community-led initiatives and delivering events and activities.
Improve access and learning for local people – both physical access on and between sites and intellectual access on and off site through a range of resources. This includes development of the 'Tame Way', themed trails, and a Gateway to the Tame Valley interpretation centre and website.
Provide training opportunities for local people by offering taster sessions, short courses, award schemes and certificates in a range of heritage and conservation topics, in order to increase the skill and knowledge levels within the local population and provide a lasting legacy.
Key outputs
In order to meet these four aims, we set a variety of SMART objectives. Meeting these aims and objectives ensured that the scheme reached its targets and produced the following 10 key outputs:
2 historic Grade II listed structures restored.
50 hectares of wetland habitat created / enhanced.
5 Local Biodiversity Action Plan (LBAP) / endangered species protected.
1,000 metres of historic hedgerows restored or re-planted.
1,000 metres of river or canal bank re-naturalised.
3 local groups established / supported, plus a series of working groups set up.
1,000 school children, 500 members of the public and 200 young people engaged and inspired.
Promotion of the Tame Way long distance footpath and creation of 5 new circular walks, a phone app and a new interactive website.
Delivery of 150 taster days and events and activities where 1,000 people will learn about their local heritage.
65 local people formally trained, gaining accreditation through OCN and City & Guilds qualifications (plus one, two-year apprentice position).
Projects
The National Lottery Heritage Fund scheme delivered 35 projects under four programmes, all working towards the four aims / themes of the scheme.
Although each of these projects have been allocated under a particular programme, each project will have multiple outcomes, spanning across various scheme themes. We also developed a number of reserve projects for delivery if current projects became unachievable or if we secured additional funding.

The projects have been developed in close collaboration with partners and the local community.

Click on the titles below to see a brief overview of some of the programmes and projects that we'll be delivering:

Creating and restoring built and natural heritage

There were nine projects under Programme A – two projects focusing on restoring built heritage structures along the Birmingham & Fazeley Canal (A1 and A2), three focusing on re-naturalising sections of the canalised River Tame (A3, A5, A9) and four focusing on wetland habitat creation and restoration on the floodplain (A4, A6, A7, A8).

These projects will help to restore the landscape and re-connect the river with its floodplain, helping to reduce flood risk, improve water quality and increase biodiversity.
Wildling the Tame
We have restored and re-naturalised a 520m length of the River Tame at Kingsbury, shallowed the edge of a lake (Hemlingford Water) to create a new reedbed and created better access to both banks of the river for both people and wildlife.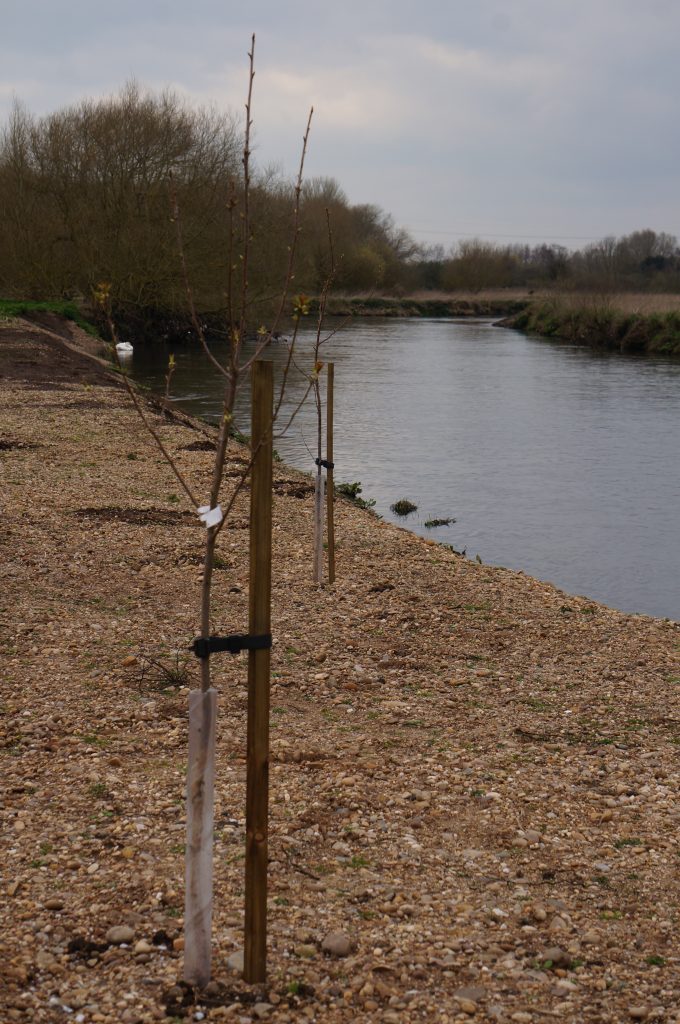 This will benefit the environment by encouraging natural river processes and improving river habitats, working towards Water Framework Directive (WFD) targets.

It will also reconnect the river to its floodplain, slow flow and reducing flood risk downstream, and remove old dredging mounds so people can see and access the river banks more safely.

The new reedbed will protect the lake banks from erosion, provide important wildlife habitat and benefit water quality.

Finally, the project will improve access for all, including the creation of a new circular walk along the banks of the River Tame.
Taming the Tame
The project aimed to complete river restoration aspirations at Tameside Local Nature Reserve in Tamworth. This follows the original project started in 2009 by the EA, Tamworth BC and Staffordshire Wildlife Trust which pulled back and reprofiled banks, created 10 scrapes and small ponds as well as creating a fish refuge linkage into smiley face pool.

In 2013 a fish pass was installed on Ladybridge weir just a short distance downstream which will allow fish to migrate up the Tame. The importance of fish refuge and spawning grounds is increasingly important to ensure the sustainability of fish populations in the River and to contribute to improvements in WFD status.

The second phase of delivery, which was carried out by Tame Valley Wetlands, was to create a linked backwater channel on the right bank of the reserve. This channel will create additional and important habitat for fish and fry while also being profiled in such a way to be attractive to any remnant water vole population that exists or which may be re- introduced in the future. The island created from the work will be an important refuge for ground nesting birds and my even offer shelter for otters that frequently use the river.
Kingsbury Water Park and Community Wetlands
Fantastic Fritillaries
With funding from our National Heritage Lottery Funding (NHLF) Landscape Partnership, our Fantastic Fritillaries project involves using traditional land management methods to restore the wildflower meadow, reinstate grazing management and ensure the fritillary population thrives.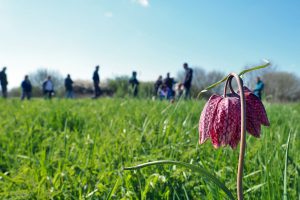 Work including annual mowing of vegetation and livestock grazing will help the fritillaries compete against taller vegetation growing in the meadow, making sure they continue to grow well.

Increasing Community Participation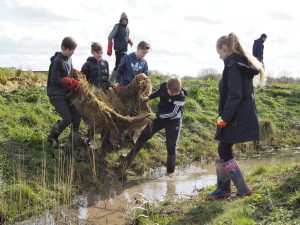 There were nine projects under this Programme, loosely divided into six overarching themes: heritage-focussed events (B1), cultural heritage (B2), practical conservation (B3, B4 and B9), community group support (B5 and B6), youth engagement (B7) and schools engagement (B8). Community engagement and participation in the scheme will be key to its success; we need to inspire and enthuse local people in order to protect and conserve the wildlife and heritage of the landscape for future generations.

We also explored Cultural Heritage, and one way in which we hope to capture the memories and stories of people within the Tame Valley is through online resources such as HistoryPin. Click here to learn more!
Ratty's Return
Ratty's Return is a community engagement project aimed at helping the public to be more aware of water voles and to understand their ecology and distribution in the area. We also aimed to identify potential sites for habitat improvement to aid the expansion of water vole populations.
Hedgerow Restoration
Between 2014 and 2017, Tame Valley Wetlands achieved the following project aims:
405m of hedgelaying achieved by volunteers and contractors
543m of hedgerow planted by volunteers and contractors
13 training days attended by volunteers
57 people trained in hedgerow restoration
Our aim was to restore 1000 metres of the Tame Valley's network of hedgerows by planting new hedgerows or restoring existing hedgerows by laying and gapping up. We also wanted to enable local people to learn the traditional art of hedgelaying as well as care and management of hedgerows.

Access and Learning
Circular and Themed Walks
Tame Valley Wetlands Landscape Partnership (TVWLP) scheme has secured funding from Tesco's Bags of Help scheme, to improve public rights of way and to create two new circular walks.
There are 10 circular walks which have been developed and improved around the Tame Valley Wetlands.

The walks range from 2 miles to 7 miles, allowing walkers to explore the wider countryside whilst introducing them to an array of wildlife.

TameForce, TVWLP volunteer group, have worked hard to improve the access of the walks by installing new kissing gates, adding branded way markers, placing finger posts as well as implementing an interpretation panel in Curdworth. Two leaflets have been produced, detailing the length, time and what you can find whilst on your journey.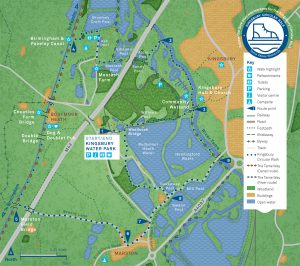 Providing Training and Skills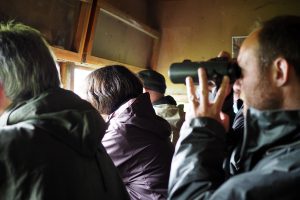 There were seven projects under this programme, linking closely with all other scheme projects. We delivered a wide range of taster sessions and events (D1) accessible to a wide range of audiences. We carried out informal training in heritage (D4) for landowners and local people, particularly focussed on cultural heritage and research. We also carried out more in-depth research studies and mapping with local colleges and universities looking into the impacts of the work we carry out, particularly under Programme A (D2 and D5).

There was also a comprehensive capacity building project (D3) to help train local volunteers and Partnership staff, and encourage knowledge and best-practice sharing. This was an important project in terms of legacy – equipping local people, groups and organisations with the skills they need to continue work after the scheme has finished. Along a similar line, the scheme aimed to provide more formal, accredited training (D6 and D7) for local people wishing to gain new skills. These opportunities will be particularly valuable for local people not currently in education, employment or training, or for people looking for a change of career into the heritage or environmental sector.
Transition and Legacy of the TVWLPS
Legacy Projects

Legacy projects are projects that have been continued after the completion of the TVLPS National Lottery Heritage funding ended in 2018. These projects will continue to be delivered over the coming years and contribute to our Vision for the future:
"By 2030, the Tame Valley Wetlands will be a high quality, well-known and valued landscape, rich in wildlife, beauty and culture for all to enjoy."
Between 2018 and 2030, the TVWLP will ensure a strong legacy for the HLF-funded Landscape Partnership Scheme and create a sustainable long-term future for the Partnership, working together to deliver projects categorised under four key themes:
Theme A – Delivering landscape-scale connectivity and habitat creation and management
Theme B – Maximising opportunities from strategic planning and development
Theme C – Community engagement and ownership
Theme D – Tourism: marketing and destination development
We will continue our TameForce volunteer opportunities and school education engagement programmes. We have also carried out more delivery works towards enhancing the landscape and heritage around the Tame Valley Wetlands.
Reprofiling the River Cole
The re-profiling of the River Cole, located upstream of the River Tame in North Solihull, is an important project aiming to enhance the biodiversity and aesthetics of the river. Working alongside Solihull Metropolitan Borough Council and the Environment Agency, with support from our National Lottery Heritage Fund (NLHF), the project will make the River Cole better for both wildlife and people visiting the area.
Renovating Lea Ford Cottage
Lea Ford Cottage is an ancient c17th Tudor farm worker's cottage originally located near the small village of Lea Marston. Through around 10 generations, for almost three hundred years, the building remained virtually unchanged. The cottage was then moved to the walled garden at Hams Hall Environmental Centre.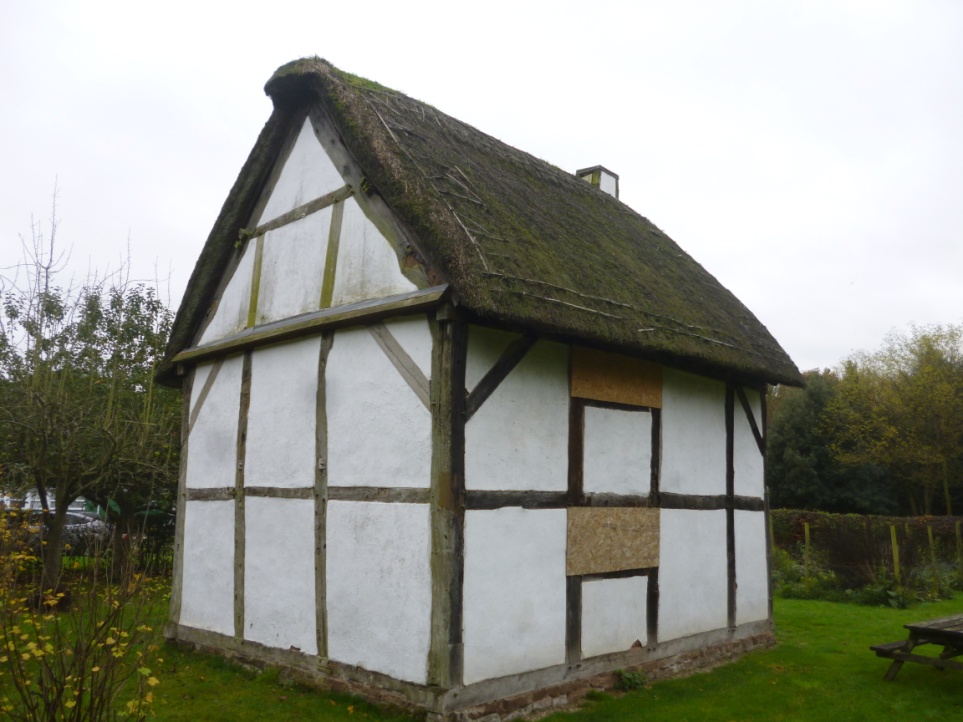 One of TVW's recent projects, funded through our National Lottery Heritage Fund (NLHF) Landscape Partnership, has been to restore the cottage to near its original state so that it can be used by visitors for educational purposes, such as to provide an inspiring learning space for school groups. 

You can find out more about the landscape and the scheme by downloading the following (low-res) sections of the main scheme document – the Landscape Conservation Action Plan (LCAP):